Today I welcome Lee Ann Sontheimer Murphy. She maintains more than one blog so I'm going to run through them quickly to let you get a feel for each one. The first, which she pointed me to in our introductions, is A Page in the Life. Here she shares excerpts from her novels and relates them to current events (like the Queen's Jubilee). SeanachieStories is her Tuesday Tales blog where she posts weekly fiction pieces. Sometimes these are associated with fellow writers, using the same prompts. The Dirty Dozen was where she would post a dozen lines from one of her works. And finally, there is Author In The House where she features and interviews other Authors.
Is Lee Ann busy? Did you really have to ask?
As if all that weren't enough, she regularly guests on other blogs, including Sundays on Pop Culture Diva. Somehow, she found a few minutes to answer my questions. 
Most of your posts on A Page in the Life seem to be participation in blog hops. How do you find these hops? Do you have any other planned in the next month or two?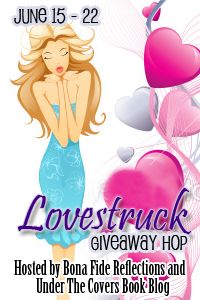 On "A Page In The Life" I do participate in a lot of blog hops. I love them because they draw traffic and find new readers. I pick up a lot from various author groups I belong to on FB and Yahoo groups. I also occasionally find them by a Google search.
Starts her handy memo program. Search blog hops on Google.
Upcoming I'll be participating in the
Lovestruck Giveaway Hop
June 15-22, a blog hop for Rebel authors on Long And Short Romance Reviews, June 1-8, a huge Independence Day Blog Hop July 1-4, the
Cocked and Loaded Shooting Stars
blog hop July 5-11, and
Kharisma Rhayne's Birthday Blog Hop
July 14-20. Between blog hops I write a variety of posts, everything from some of my memories to author advice for would-be writers, spotlights on my books, etc. Sometimes I put up a little original fiction or recipes. Sometimes I host an author on both Author In The House and A Page In The Life.
Wow, that's a LOT of blog hops. I'm slated for one so far.... blush You guest on many blogs for each genre/sub-genre. Do you find readers between them? How often do you post to each?