Welcome Nicole Wolverton host of Five Minute Fiction! Yes, Nicole is another in my growing number of FlashFiction bloggers. Five Minute Fiction is a little different from the others. It lacks a word limit, has only one prompt, but is the shortest with the fastest deadline of all, Five Minutes.
Five Minute Fiction was originally started by Leah Petersen. Does she still have any connection to the challenge?
Leah felt like she had to find 5 Minute Fiction a new home because her debut novel,
Fighting Gravity
, was going to be coming out, and it takes a lot of time to properly market and be available for promotion opportunities. Even though she handed it off to me, Leah is still involved as her schedule allows. She participates from time to time as a writer, and she served as a judge on May 22.
Were any changes made to 5MinuteFiction when you took over?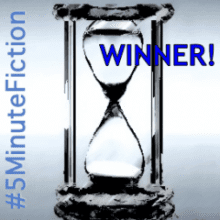 Aside from the time change, the only difference to 5 Minute Fiction is the fact that the guest judges are more routinely offering prizes to the overall winners. I know people who participate don't generally do so in order to win prizes (it's really about the opportunity to think fast and exercise your writing muscles), but there have been some really great prizes--advance copies of novels, critiques, Amazon gift cards. I'm not ruling out further changes to 5 Minute Fiction, but right now it seems like things are going pretty well as they are.
Who's going to say no to free stuff? I hope the trend continues! How do you select judges? How far in advance have you booked judges?
I mostly recruit judges who are doing book giveaways on Goodreads--if they're looking for book promotion, being a judge on 5 Minute Fiction is a unique (and easy) way to get some publicity for a novel launch or re-launch. Sometimes writers come to me, which is also really great. The guest judges have been writers with traditionally published novels, as well as writers who have self-published. One of my first guest judges was an editor who offered a free edit package to the winner. I'm open to just about anything and anyone--variety keeps things interesting. I like to keep the judges booked a month or two in advance. Right now, I'm booked through June and half of July.
Goodreads giveaways, what a great idea. You already know they're willing to give away something. Do you have a backup/alternate for Tuesdays that you are unavailable?
Right now, I don't have a back-up plan, although it looks like I'll have to make one. I just signed a contract with
Bitingduck Press
for my debut novel (a psychological thriller titled The Trajectory of Dreams), which should be out in spring 2013. I hope I don't get so busy with marketing and promo that I have to hand it off, but you never know.
Maybe by then Leah will be ready to take it back. :) That would be convenient. The photos for #5MinuteFiction are not necessary for inclusion in the piece. How do you choose them? Where do you find them?
The photos that accompany the prompt are either chosen by me or chosen by the guest judge (same with the prompt itself). I can't speak to how the guest judges choose the photographs, but for me, I look for something that hints at the prompt but isn't too, too obvious. I like the idea of coming up with a photo that isn't necessarily the very first thing you think of when you read the prompt--it's great to help lead people in a different direction. Photos come from all over the place.
So, it's essentially 15 minutes fiction with the time buffer. Do you find you get oddly long entries from people using the entire time allotment?
I'm positive there are people who take more than five minutes to write an entry, but there's no way to police that. And really, I'm not sure I'd want to. We're on the honor system. Even still, there are usually one or two entries that get submitted after 8:45p EST every week, and those I have to mark as ineligible. It's a bummer—they're always really great!
Always sad to turn someone away. I know Leah had a system whereby you could DM or email her if you ran into trouble. I'm sure you have something similar, so those must be people cutting it too close. I know I've had trouble stopping after five minutes! Have you ever had a problem with the poll software?
Oh, the poll software. Right now I'm using Pollcode, and it's been reliable. Since I took over 5 Minute Fiction from Leah, I think it's been a problem for someone maybe twice or three times...and I think it's probably been an issue of the operating system the voters are using. Maybe I'll try something different one day, but for now I'm pretty happy with how the polling is working. It limits voters to one vote per day.
I've had problems using Chrome, but Firefox likes it just fine. How often do you post other topics? How do you choose their topics?
The blog posts on my website are overwhelmingly devoted to 5 Minute Fiction, although I suspect that will change as promotions ramp up for The Trajectory of Dreams. Sometimes I'll post something about what's going on with me, or a non-5 Minute Fiction flash fiction entry of mine that won a challenge. I realize regular blog posting is important, but at the same time I don't really want to post something just to post, you know? I tend to choose topics based on what's interesting me that day.
I adore my interviews because otherwise I'd be posting just to post. Thank you so much for your time Nicole and I can't wait to get a concrete date for Trajectory of Dreams!