Today, I'm happy to introduce you to
Carina Press
, a digital-first imprint of Harlequin. Whether you like to read contemporary romance, erotic romance, gay/lesbian fiction, science-fiction, fantasy, or any number of other genres – you'll find something to love at Carina Press. Here are a few of their latest releases.

Out for the Count
is another installment in
Michele Mannon's
Worth The Fight
series. With an athletic or sporty theme, they are sure to get your blood pumping along with the characters. This particular volumes pits an undercover narcotics detective against a woman who has just cut ties and is enjoying her new-found freedom.
Caroline Kimberly
has added a new book to her
Ashford Brothers
series.
The Inconvenient Wife
, Kyra Deverill, has lost her father. Now the Earl of Griffin, Ethan Ashford, is responsible for her well-being--an unlikely assignment for a renowned playboy. Grif finds the assignment all but impossible because he's lusted after her for most of his life.

Danube Adele
has released
Dreams of a Wild Heart
, part of the
Dreamwalkers
series. Ceci Bradford has mastered MMA, climbs and dances because just being a twenty-six-year-old doctor isn't enough. Tabron has no need for a mate. What he does have are hands and wicked lips. Surviving a hidden conspiracy and the dangers of an alien place might be more difficult than they imagined.
And finally, not part of an ongoing series,
Finish What We've Started
by
Amylynn Bright
builds on a shaky past to put a new foundation under Lee Bennett and Candace Claesson.
---
Chapter One
Oh, crap.
Literally, crap. Lee Bennett cursed, then scraped the sole of his work boot on a curb. How had he missed that pile of dog poo? It was like Godzilla had passed through the parking lot.
He raked his fingers through his hair, making himself presentable to meet with his client. He grabbed his clipboard and a manila folder, then slammed the door to the truck's cab. He skirted another pile of dog poop. Probably an occupational hazard at a veterinary office. He held the door open for a tiny old lady holding a tiny brown dog.
The lobby of All Creatures Veterinary Clinic was loud. And hairy. Lee suppressed a sneeze as a hunk of yellow dog hair floated past his face. He waited by the tall counter as the elderly lady signed in her wee brown dog—or squirrel, honestly it could have been either, it was so small. There was also a woman with a box of gray-striped kittens, a man with something very mysterious rolling around inside a tied pillowcase, and a young guy with a dog the size of a musk ox drooling on a leash. The last one was probably responsible for the poop in the parking lot. What the hell did his owner feed an animal that big? Truant children?
"Can I help you?" The receptionist looked over the counter, trying to spot his animal.
Oh, no. No animals for him. Pets seemed like so much trouble. "Hi. I'm here to see Dr. Claesson about the new clinic."
"Oh right. He's expecting you." She stood up and walked to the door that led to the back. "Why don't you follow me?"
She led him down a hallway, past a closed door that muffled a feline yowl followed by an alarming thump, and into an office. "You can wait here. He'll be right with you." She met his gaze and gave him a full-wattage smile. He gave her a friendly nod. Picking up a girl here, of all places…It wasn't going to happen.
He wandered around the room and read the diplomas on the wall. There were pictures of Dr. Claesson with all kinds of animals, cats, dogs, horses…A giraffe. Whoa, sure as shit, there was the vet with a damn giraffe. Cool.
He stepped over to the book shelf. Nothing there but reference books and stuff. On the desk sat a photo of the man's family taken about fifteen years before, based on the clothes. Dr. Claesson had a pretty blonde wife, five handsome blond sons and one gorgeous blonde daughter who had almost been Lee's wife.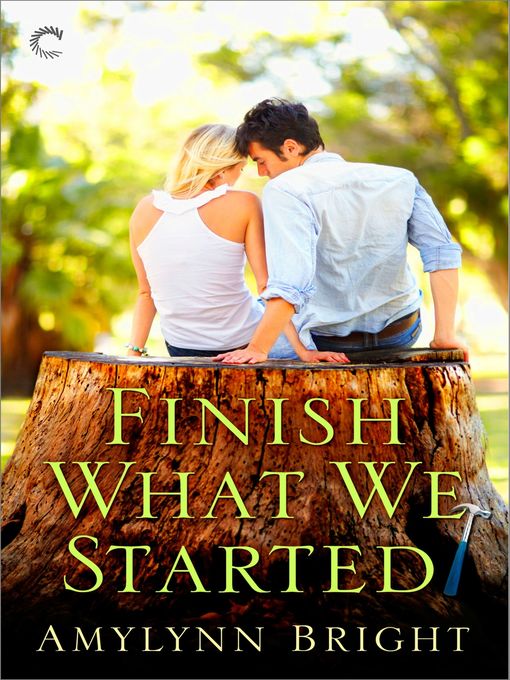 The room was stifling all of a sudden. He plucked at the front of his shirt and told himself to calm down. Taking a seat in front of the desk, he pulled the blueprints from the folder. He spread the papers out, then scanned them for the millionth time. It was a fairly standard layout: big lobby, five exam rooms, surgery, office and boarding kennels in the back.
This wasn't the type of job he normally preferred, but it was going to be a quick one and the money would allow him to take other, less lucrative jobs that would require more creativity. Besides, he hadn't been able to figure out a way to graciously say no.
"Lee," Dr. Claesson said his name in a good-natured bellow as he walked in and shut the door. "How are you today?"
He stood and shook the veterinarian's hand. "Afternoon, Doc. I'm good. You?"
"Eh," the doctor said with a smile. "It's always a good day when I'm not wearing Band-Aids."
Lee chuckled. "In my line of work, we just close up cuts with some duct tape and move on."
"Right. But then again, your customers probably don't bite you on a regular basis." The doctor took a seat behind the desk. "Are these my plans?"
"Yes, sir." He leaned over the desk with one hand and pointed to the drawings. "Here is the lobby, exam rooms here on the left, passage along there is the lab and an operating suite, and an office right here—" Lee touched the paper on the far side, "—in the back."
Dr. Claesson smiled. "That looks great. And you put in the electrical requirements I mentioned?"
"Yep." Lee reached behind him for the folder and pulled out a typed sheet. "Here are the changes in the estimates. Nothing big."
The doctor nodded. "Fine, fine. When do we get started?"
"Permits will be ready by the end of the week. Grading will sta—"
The door to the office opened and an agitated female was already talking a mile a minute as she strode into the room. "Dad, I'm not taking Mr. Phillips anymore. There's nothing wrong with that cat of his. I'm telling you, he just wants to hit on me."
Candace Claesson. Lee could only stare.
She spotted him and came to a quick stop. "Oh."
"Lee is doing the construction on the new site." The doctor was busy going over the estimate sheets and paid no attention to the silence that sucked the air out of the rest of the office.
She was still the most heart-stoppingly lovely woman he had ever seen. Her butter-yellow hair was pulled back in a long braid. He wanted to ask how she'd been. If she was happy. Was she seeing anyone? He wanted to snub her. Or call her a witch, then wrap his arms around her and kiss her until they both couldn't breathe. Instead he snapped his jaw closed and looked at his paperwork.
"I'm sorry." She shifted her gaze to her father. "I didn't know you had someone in here."
Someone?
He was just someone these days?